Google does many things, but restricting what you can do with your data isn't one of them. As a mail client for instance, Gmail is beloved and used all around the world.
Its search and labelling systems are a great way of handling mail from the web. If you prefer though, you can take its IMAP details and plug them into any email client and handle things another way, or into a specialist client that's designed specifically to work with Gmail, and offer specialised functions that are unlikely to ever make it into even Google Labs – and that's just the start.
Here is a handful of useful sites and applications that hook into your account. Some use the data in your account and files in Google Drive, while others simply use Google's authentication system for signing in. That's more useful than it might sound, because as well fewer passwords to learn, you can use Google's two-tier authentication systems to help protect your account.
This typically uses passwords for mobile apps, or a code fired to your phone when logging into a service through a web browser. Most smaller services don't offer anything like this.
Many services that hook into your cloud data are online apps (in particular, web apps in a browser). If you're using Chrome, you can find and access a huge catalogue of ready-to-roll services by visiting the Google Drive apps website. Here are some of our favourites for online and offline use.
Mailbox
Mailbox is a powerful email client for iOS. It's designed to help achieve 'inbox zero' – the fancy way of saying 'no more e-mail left . It does that by hooking into your Gmail account and offering expected features, such as sending and receiving e-mails, but making it easier to archive things or put them off until later.
If a personal message arrives at work, you can shoo it away until the evening or the weekend, or push a work-related one back until the morning. Alternatively, generic 'later' and 'someday' choices are available, as is picking a specific date to deal with something.
The result is that your inbox contains only things that need attention right away. A swipe to the right archives a message. A long swipe trashes it. A long left swipe adds it to lists. The big catch is that Google's labels are barely supported.
If you use a lot of filters, you're not going to see a lot of your mail. An Android version is on the cards at some point, as is support for non-Gmail addresses. For now, though, a Gmail address and either an iPad or iPhone is required. The service is free and supports up to five accounts.
However while it offers some support for cloud storage, being owned by Dropbox means that integration with rival Google Drive to add attachments is unlikely to put in an appearance. A Dropbox account is free and offers 2GB just for signing up – and more with referrals and photo service to deal with.
Feedly
For many years, Google Reader was the world's favourite RSS reader – a site that would gather all the latest news from other sites and present it in handy list form, either in a web browser or in third-party apps.
It was closed in July 2012, and Feedly, which previously used data stored on Google's servers, but subsequently implemented its own technology to do the same job, is now the go-to site. It still uses Google Account details for logging in, and it gives the Google+ share button pride of place when reading stories.
Its look and feel fits well next to Google's own style, so it won't feel out of place. RSS – Really Simple Syndication – is by far the best way to read the news, and almost every news site offers at least one RSS feed. Larger ones typically offer several.
The BBC, for instance, has dedicated feeds for topics such as World, Politics, and Entertainment & Arts. They're free to use, and adding them is usually as simple as entering a website's address into Feedly for it to detect the feed, or looking on a site for a link labelled 'XML', 'RSS' or with a bright orange icon.
Feeds can be sorted into categories, which combines them into a custom newspaper of sorts that pulls stories from several places into a long list of cool and interesting things.
It's also possible to instantly share items via Google+, Twitter, Facebook, LinkedIn and other major services. You can save stories to refer to later, and tag them to create custom feeds of just the things that caught your eye. A tag can be as simple as 'Interesting', or as specific as a project you're working on.
Either way, if it involves news, there's no better way of gathering and sorting through it. Feedly is your daily newspaper, your filing cabinet and your clippings file all in one. It's free, though there is a premium version of the service available with better searching and Evernote integration.
PhotoSync
Android is unsurprisingly well-served for apps that integrate with Google services (while iOS apps tend to restrict themselves to iCloud and Dropbox). For photos, PhotoSync is one of the better options.
It enables you to create targets for your photos, including Google Drive, and upload to them at the touch of a button.
Once uploaded, your files can be accessed from PCs and any other devices, including smartphones and tablets. You can share them with other people, too, and several people can edit the same document concurrently as well – great for collaborative projects.
DriveTunes
Many of us now have large collections of music stored as digital files and Google Drive is a great place to store it. However, it's not possible to play it from there unless you give it a helping hand.
Enter DriveTunes, which has two parts – a Chrome extension that adds a player to the 'Open With' menu for instant playback, and an iTunes-style player app that offers immediate access to your music collection. All you have to do is put your music into your local Google Drive folder and it's uploaded automatically.
You'll then be able to enjoy your music collection on demand.
Insync
Google Drive's sync capability is a great way of pulling most of your files onto your PC, but it has some key limitations – one of the biggest being that any Google Docs files in your Drive are brought down only as links to their online versions.
If you want to work on them in a Desktop app, you're out of luck. Insync can convert files automatically, so they can be worked on in tools such as Word.
It also offers broader support for selective syncing, potentially useful technical features such as working on external and network drives, and it doesn't need an admin account to install.
Pixlr Express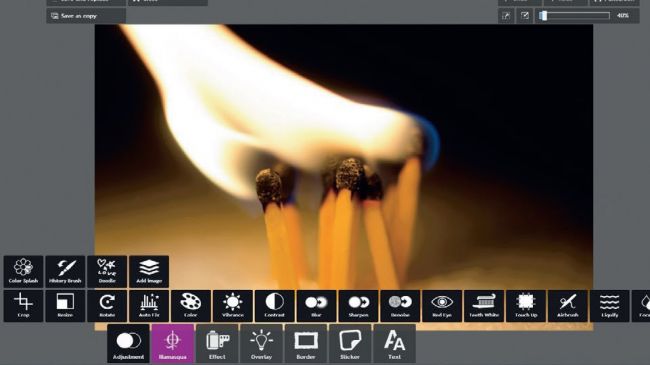 While it won't give Adobe Photoshop any sleepless nights, Pixlr Express is a fun and easy way to edit photos uploaded to Google Drive. It can perform simple edits such as cropping and rotation, but it's capable of more creative effects – these include whitening teeth, removing wrinkles, and desaturating colour from an image except in areas you select.
Web-based photo editors are slower than native applications, but this one works well. Its highlights include a liquify tool for distorting your friends' faces and a selection of text overlay options, too.
Zoho
While it doesn't get the attention of Google Docs, no online office suite beatsZoho in terms of product range. It uses Google as a sign-in method to unlock everything from finance software to live support systems, invoicing, discussions and creating wikis.
More importantly, three of its biggest features – Zoho Writer, Zoho Sheet and Zoho Show – can work directly on Drive, so you can still use your existing space to save and manage documents, but use alternative tools to Google's own for three important jobs.
Setting it up is easy. Add the Sheet, Show and Writer options from the Create menu. Choose one, and the Zoho application fires up as if you'd logged in to it directly, but with the file in your own storage space. Zoho documents can be accessed from the desktop after syncing, and you don't even need a separate account.
Why would you want to use Writer instead of a regular Google document? The two tools are very similar, but presentation and details can make a huge difference. It also adds some handy features such as a better custom dictionary as well.
WeVideo
WeVideo enables you to drag and drop clips from your Google Drive storage to its online video editor, and it offers a range of pre-made themes that can make your video look more professional. You can add text annotations, pan and zoom and even use green-screen techniques.
It's free for personal use if you're happy to stick with 10GB of storage. If you want upgrades, then it's $4 per month for 30GB. The next step up is $15 per month for the full 100GB. As for business accounts, they start at $15 per month. These prices are all billed annually. Monthly billing pushes the cost up.
CloudConvert
One killer weakness of cloud storage is you usually can't just pop a file into an app and spit it out as something else when needed. With the help ofCloudConvert, however, you can turn one file type into another.
You might turn a PNG into a JPEG, a WMA into an MP3, or a Word document into a PDF. It can convert between many more formats. It's free, and its services are available in Google Drive when you right-click a file. Converted files are placed alongside the original in Google Drive, and you have the option of downloading the converted file straight away, if you choose.